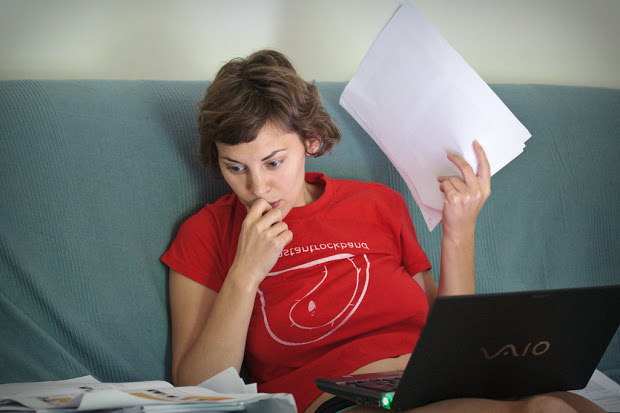 Are Online Degrees Easier?
For many students who have families, full-time jobs or other responsibilities, taking classes online is the simplest and most convenient way to earn a degree. But is an online degree actually easier to earn than a degree from a brick-and-mortar school? Not at all. It's a common misconception that online classes don't involve much actual work or learning, but this couldn't be further from the truth. In fact, online classes can be even more demanding than traditional classes. Here's why you shouldn't expect your online classes to be a cakewalk.
1. Online classes are held to the same academic standard as traditional classes.
If you are taking online classes from an accredited college or university that has brick-and-mortar locations, your classes will be no different from the classes that are taught on campus. You'll follow the same curriculum, complete the same assignments, and be graded the same way as a student attending classes in person. To maintain their accreditation, schools need to maintain a certain standard of academic rigor in all their classes, and that includes their online offerings.
2. You'll need to be a self-starter to succeed in online classes.
When you take a traditional class, there's a certain amount of social pressure to do the assignments and show up. Some people find this very motivating and helpful. Online classes don't come with this kind of external pressure, and as a result, many students run out of steam and drop out partway through their degree. To complete your degree online, you'll need to be motivated enough to study even when you don't feel like it. It's very easy to fall behind in an online class, so your personal discipline and your time management skills can make or break your final grade.
3. Online classes often require lots of reading.
Do you love to read? Then you're probably up to the challenge of taking an online class. Because online classes don't have a classroom component, you'll have to do quite a bit of reading to absorb the material. Sure, you might still listen to lectures, watch videos, and participate in discussions, but reading independently will most likely be the core of your online education. Students who dislike reading and studying independently may find themselves struggling with this aspect of earning an online degree.
4. Online classes take as much time as their traditional counterparts.
It's a common misconception that you can breeze through an online class with only a few minutes of work every day. An online education is still an education, and every worthwhile education takes time and hard work. You'll need to set aside enough time to listen to lectures, do your readings, complete homework assignments, and review past material for quizzes and exams. In general, you should plan to spend at least as much time studying on your own as you do listening to lectures and participating in class discussions.
5. You'll still need to do homework, write papers, and take tests.
Online classes involve plenty of assignments. In fact, you may have even more assignments in an online class than you would in a traditional class because the instructor has no other way of knowing how well you are learning the material. Depending on what kind of class you're taking, you'll probably need to do readings, write papers, and participate in discussions with your classmates. You'll also need to take exams, just like any student taking classes in person.
Wrapping Up
If you're considering taking online classes because you think they'll be easier than traditional classes, think again. Online classes are just as demanding as classes held in person. If you don't think you're up to the challenge of taking traditional classes, it's probably best not to sign up for an online degree program either. But if you're willing to work hard and do your best, online classes might be the perfect way for you to further your education.