The 51 Best College Bookstores
Visiting your college bookstore is an essential part of the university experience. In addition to being a prime source for textbooks and all other academic supplies that students need, bookstores celebrate team spirit with game day apparel and other products to show off school pride. In fact, college bookstores often attract future students, alums, and fans as well.
Across the country, numerous bookstores serve many reputable universities. We researched customer ratings from review websites like Google, Yelp, Facebook, and Tripadvisor to determine the top college bookstore in each state and Washington D.C. Organized alphabetically by state, the resulting list features the top college bookstores you need to visit.
The University of Alabama Bookstore is the place for everything from Bama merchandise to school supplies, textbooks, book buybacks, and more. In addition to being open most days of the week, this bookstore offers online shopping for the convenience of students and alums.
When you shop at the University of Alaska Fairbanks bookstore, you are actively supporting the school and its students. A portion of all sales on textbooks, dorm décor, electronics, school brand apparel, and other items streams directly to the university.
This university-owned bookstore offers everything from graduation gear to school supplies, books, dorm merchandise, electronics, and apparel for all ages. A portion of its proceeds supports student organizations, scholarships, student employment, and other university initiatives.
In the Arkansas Union, the University Bookstore sells Razorback apparel, gifts, snacks, supplies, magazines, and other products. The attached computer store offers a range of electronics and accessories and repair services conveniently on campus.
A student-led association operates the UCLA Bookstore, and proceeds benefit student activities groups, campus facilities, and the community. Both online and in-store shopping is available for textbooks, dorm accessories, spirit clothing, customized apparel gifts, and more.
The Official Bookstore of CU Boulder is your one-stop source for Buff's apparel, gift cards, textbook sales, and rentals. Tech services, including repairs, printing, and rentals, are also available through the bookstore for students' benefit.
Whether looking for apparel to show off your Stag spirit or a Starbucks fix before class, the Fairfield University Bookstore is the place to go. Textbooks, e-books, and online shopping are also available for students' convenience.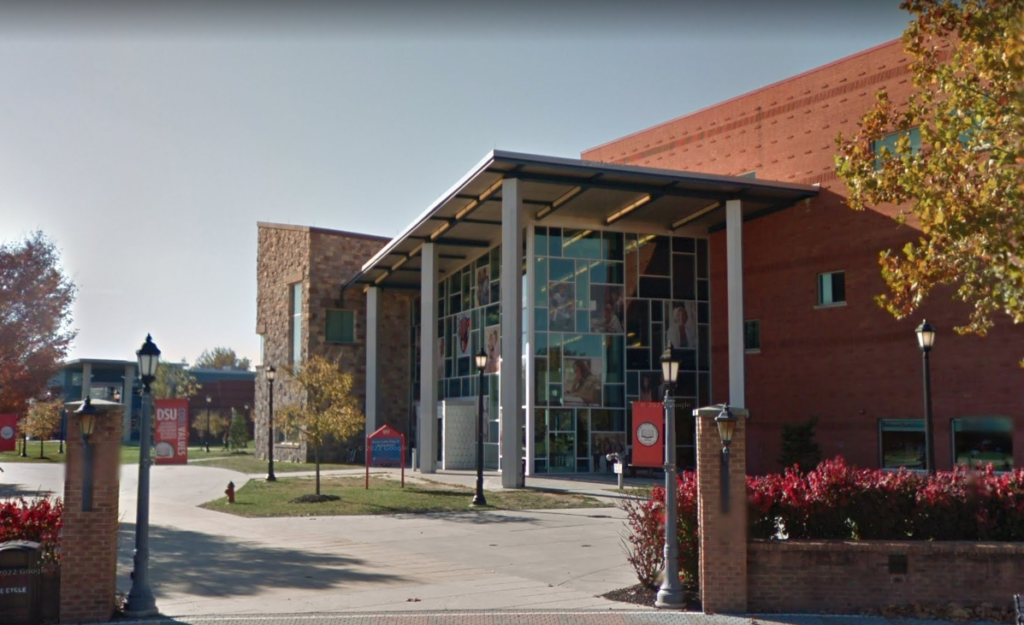 The Delaware State University Bookstore offers everything from Greek life apparel to school spirit gear for all ages. It also sells electronics, phone cases, book bags, health products, and other products on campus and online for students and alums.
Whether you are a Gator Dad, a Tim Tebow fan, or a student needing school supplies and textbooks, the University of Florida Bookstore has you covered. Both online and in-store shopping is available, and proceeds support the university's academic endeavors.
At the University of Georgia Bookstore, gift cards, Bulldogs apparel, textbook rentals, sales, and more are conveniently available on campus. Coupons and discounts are available online for significant savings.
Located in the Aloha Tower Marketplace, the HPU Bookstore is a vital resource for the community. You can get your Shark spirit gear, diploma frames, textbooks, and even tutoring services in one convenient location through the bookstore.
The Vandal Store is your source for brand-name spirit apparel, textbooks, and class supplies. You can even find locally-made wool blankets, plush gifts, Yeti products, and online exclusives to show off your team pride.
At the Illini Union Bookstore, proceeds benefit student activities and events. In addition to selling textbooks and course supplies, the bookstore offers Illini apparel, pet products, gifts, and other items that students, alum, and team fans may want.
While Notre Dame has a couple of fantastic bookstores, the Hammes bookstore has slightly higher customer ratings. This bookstore has a spirit shop with a full selection of Fighting Irish apparel, outdoor gear, and more. Religious gifts, technologies, snacks, limited-edition products, leisure reading material, and more are also available.
The Iowa State University Bookstore has all of the Cyclones spirit products, school and office supplies, tech devices, and more that you need to be successful in and out of the classroom. Apple tech, Kendra Scott jewelry, and even auto gear are also available.
From books and printing services to Jayhawk and Junior Jayhawk apparel, spirit shoes, drinkware, and other merchandise, the KU Bookstore has everything you need. Students receive a 20% discount, and proceeds go to the KU community.
At the UKY Bookstore, you will find textbooks and leisure books, headphones, spirit apparel, technology, and other products. The bookstore has a clearance section, and coupons are available online for additional savings.
The Loyola University New Orleans Bookstore offers online and in-store shopping for technology, course materials, spirit gear, and student essentials. Students can take advantage of discount codes and homework assistance registration through the bookstore's website.
The University Store is an online bookstore serving the USM community, and it provides course materials and Husky spirit apparel and gifts. The bookstore also serves the community by accepting food pantry donations.
The University Book Center is located in the student union and offers everything from graduation caps and gowns to course supplies, books, calculators, and a full selection of school apparel. Savings offers are available online.
The Coop is your source for undergraduate and graduate school course books and supplies. In the store, you can also find home and auto products, gift cards, class rings, and a wide range of other school spirit products.
The GVSU Bookstore has an excellent selection of Lakers apparel, mugs, and school supplies. It also offers games, books, care packages, graduation products, and tech products for alums and students to purchase.
The University of Minnesota Bookstore has several convenient locations and online shopping. It sells graduation regalia, textbooks and course materials, technologies, house and auto products, and other Goldy gear.
The Jackson State University Bookstore is your prime source for backpacks, technology, and textbooks. It also offers Greek organization apparel, spirit products for all ages, and a great selection of gifts.
Conveniently located in the MU Student Center, the Mizzou Store also has an online store. University memorabilia, textbooks, gift cards, Mizzou apparel, dorm supplies, and accessories are available.
From fan essentials to spirit outdoor gear, textbooks, and custom-printed products, the MSU Bookstore has everything you need on campus, at the game, and beyond. The store sells products from brands like Simms, Nike, Yeti, and Under Armour.
The University of Nebraska Lincoln Bookstore has all the textbooks, school supplies, and electronics students need. It also carries dorm and home décor, music, games, gifts, and alum products.
The UNLV Bookstore carries dorm supplies, electronics, textbooks, and logo apparel. It also can connect you with writing and homework assistance for enhanced success with coursework.
At the NYU Bookstore, you will find school pride gear from popular brands, textbooks, graduation regalia, alum gifts, and more. The bookstore also keeps students connected with the latest news about study abroad programs, contributing to scholarship funds and other endeavors.
The SNHU Bookstore carries course materials for both online and in-person students. Students run the store, offering Penman pride apparel, electronics, and supplies.
The Rutgers University Bookstore keeps its inventory of textbooks, school spirit products, and electronics fresh. It also provides regalia, graduations, and a homework help service. Online shopping discounts are available.
At the UNM Bookstore, you can shop for course materials, Lobos spirit apparel, and an extensive range of electronics. It also offers free delivery to residence halls, savings opportunities, information about studying abroad, and other helpful services.
At the UNC Student Store, you can check out the spirit shop to find the latest styles of apparel and gifts from brand names like Champion and others. In addition, the Student Store has computers, course materials, and other student essentials.
The UND Bookstore is your source for official Fighting Hawks gifts and apparel from respected brands. Care packages, clearance items, school supplies, textbooks, and other items are available online and in-store shopping.
Miami University's Brick & Ivy Campus Store has everything from digital course materials and school spirit apparel to graduation essentials, a clearance section, and technologies. Shoppers can place orders and return textbooks online.
Oklahoma State University's University Store is located in the Student Union and supports online purchases. It has electronics in its OrangeTech department. The store is also a one-stop shop for Cowboys' spirit products, jewelry, supplies, and other items.
The bookstore at the University of Oregon is affectionally named The Duck Store. It is a nonprofit store that has been in operation since 1920. Students can buy everything from college apparel and textbooks to electronics and self-care products.
UPenn's bookstore is a wonderful place to purchase textbooks, Quaker apparel, electronics, and basic dorm necessities. Attached to the bookstore are a cafe, clothing stores like Urban Outfitters, and a 4-star Hilton hotel. If you find yourself in Philadelphia, you definitely want to check out this complex.
The Brown University Bookstore has a great selection of games, artwork, books, and apparel. It also offers class rings, care packages, and a full-service technology center for students.
Whether you are shopping for brand-name school and Greek apparel, textbooks, university gifts, health products, or various other things, this bookstore has all you need. Sustainable products and brands like Champion, Under Armour, and others are featured.
In addition to offering textbooks, school supplies, and a wide range of technologies students need, the South Dakota State University is your source for Jackrabbits apparel, graduation and alums products, drinkware, pet merchandise, and more.
The Vol Shop has the latest styles of Volunteers apparel, textbooks, Voltech services and products, student care packages, and dorm accessories. Proceeds support campus, community, and student initiatives.
The Baylor University Bookstore has everything you need for the first day of class and game day. In addition to selling a wide range of brand-name Bear spirit apparel, the bookstore has alum and graduation products, home and dorm décor, gifts, and an extensive selection of other merchandise.
The University of Utah Bookstore has the latest technologies, modern apparel styles, jewelry, textbooks, lab gear, and other items. The bookstore's sales proceeds support the university's many initiatives.
The UVM Bookstore is your complete source for all the books, branded apparel, electronics, and supplies students need. It also has a unique line of Vermont maple products for shoppers to try.
You can pick up custom and logo apparel, textbooks, book bags, and gifts at the UVA Bookstore. Graduation products and specific gear for the law school and Darden are also available.
Whether you need textbooks and Scantrons for class or want to find the latest styles of school spirit apparel, care packages, technologies, or something else, the SU Campus Store has what you need.
Washington, D.C. – Howard University (Washington, D.C.)
You can select from a wide range of course materials, leisure books, and writing supplies at the Howard University Bookstore. Bison apparel, a clearance section, regalia, and computers are only a few other products.
When you buy textbooks, spirit apparel, and other products from the Marshall University Bookstore, proceeds are applied to the school's academic endeavors. Sports gear, fitness products, and alums gifts are only a few other products available.
The University Bookstore offers seasonal spirit apparel, textbooks, gift cards, and school supplies with on-campus and online shopping available. You can also purchase various tech equipment, gifts, and graduation products.
The UW Bookstore has an extensive selection of merchandise from which students, fans, and alums can choose. Whether looking for Pistol Pete apparel, graduation announcements, auto accessories, games, or even pet products, this impressive store will have what you need!
Let's Go Shopping!
College bookstores are an essential part of the college experience. They provide students with the books and materials they need to succeed in their classes and a variety of other items that make college life more enjoyable. This article has highlighted some of the best college bookstores in each state, showcasing their unique offerings and advantages.
Whether you're looking for textbooks, school supplies, or just a place to hang out and browse, these top college bookstores offer something for everyone. With their wide selection of books and materials, knowledgeable staff, and great atmosphere, they will surely be a great addition to any campus experience.
Additional Resources
The 50 Most Beautiful College Chapels
2023 Guide to the Best Online Ph.D. in Communication Degrees