2023 Guide to the Best Online Master's in Sports Administration Degrees
Are you eager to jump into a career in the sports business? Consider pursuing an online master's in sports administration! These premier degree programs effectively prepare students for the career of their dreams. Thankfully, many superb universities are adding exclusively online programs that require no on-campus visits. Although it may be possible to enter this field without formal training, many networking opportunities come with enrollment in a program. Get ready to launch into this industry by obtaining an online master's in sports administration.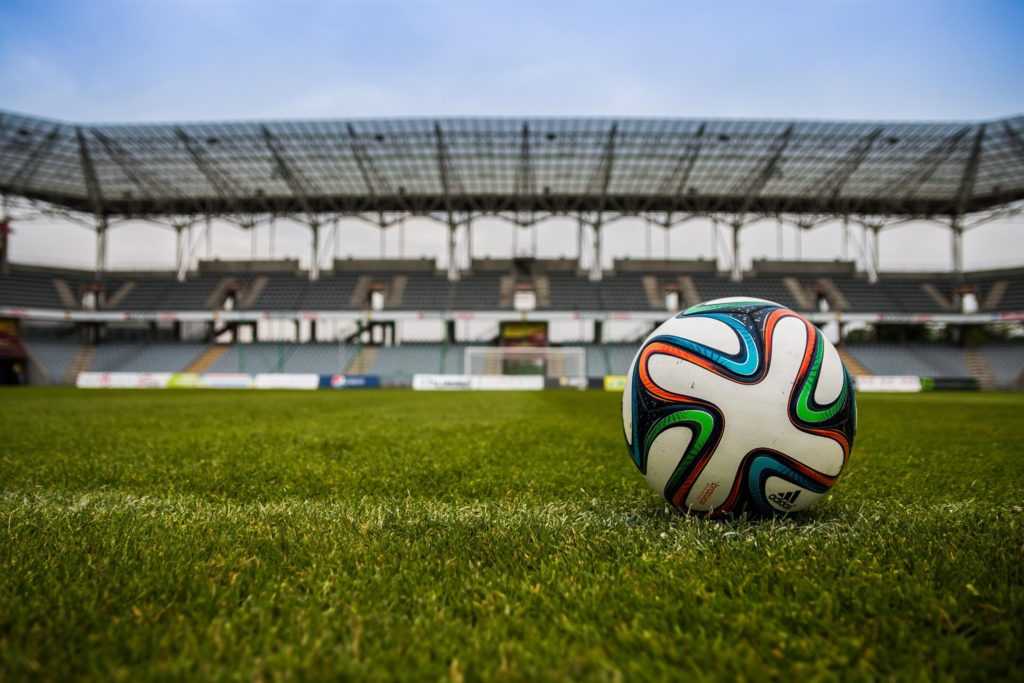 According to the Bureau of Labor Statistics, or BLS, job growth within the sports industry is much more significant than the average in other sectors. With so many jobs projected to open, the sports industry needs qualified administrators who understand the details of sports finance, marketing, stadium management, event production, athletic coaching, sponsorship deals, and more. There are accelerated online programs that enable students to reduce the time spent in a classroom. The courses are flexible enough to allow busy professionals to complete the online degree on time. Many students can finish the online master's in sports administration in under two years.
Online Master's in Sports Administration Degrees
The online master's in sports administration program offers students the chance to prepare for a future within a highly competitive field. These programs allow students to acquire a variety of personal and professional skills. Online degrees offer maximum flexibility in schedules, so working professionals can take classes while fulfilling other work and family responsibilities. However, not all programs have the same merits. This handy guide will cover the most critical features of any online master's in sports administration program.
Specializations
While a general sports administration program can prepare you for various career options, consider a program with a specialization if you have your sites set on a specific job. Specializing while enrolled in a reputable program can help you accomplish long-term goals. There is a range of options available to suit a variety of students. If these options feel overwhelming, ask a friend in the industry or an admissions counselor at your top school for guidance. Admissions counselors are always available to assist students in planning a successful course of academic study. Once you complete the online master's in sports administration, the specialized area of focus will pave the way to your first job interview.
Here are a few specializations offered in these programs:
Sports Analytics
Sports Event Management
College Sports Management
Event Management
Sports Law
Sports Media
Choosing a specialization can shape your time studying for the online master's in sports administration. Select a quality program that can accommodate a range of career ambitions. Students can apply these degrees to get into the sports industry as a coach, marketer, financial manager, or one of the many other sports professions.
Online Master's in Sports Administration Degree Career and Salary Information
According to OSHA, there are many opportunities for students to pursue careers in specialized areas of the sports industry. This may include working as an administrator for a professional sport, working in a college athletic department, athletic field or stadium management, sports media and public relations, sports agents, or an expert coach on any level.
The Bureau of Labor Statistics projects an increase of 13% growth in jobs in this field between 2021 and 2031. In addition, Forbes cited the sports industry's need for professionals with management skills for college sports teams, major stadiums, sports media, and other venues. Many of these positions require a bachelor's degree as a minimum requirement. Earning an online master's in sports administration degree will not only help you stand out among applicants, but it can also take your career to new heights.
Here are a few positions and corresponding average salaries for those with advanced degrees in sports administration.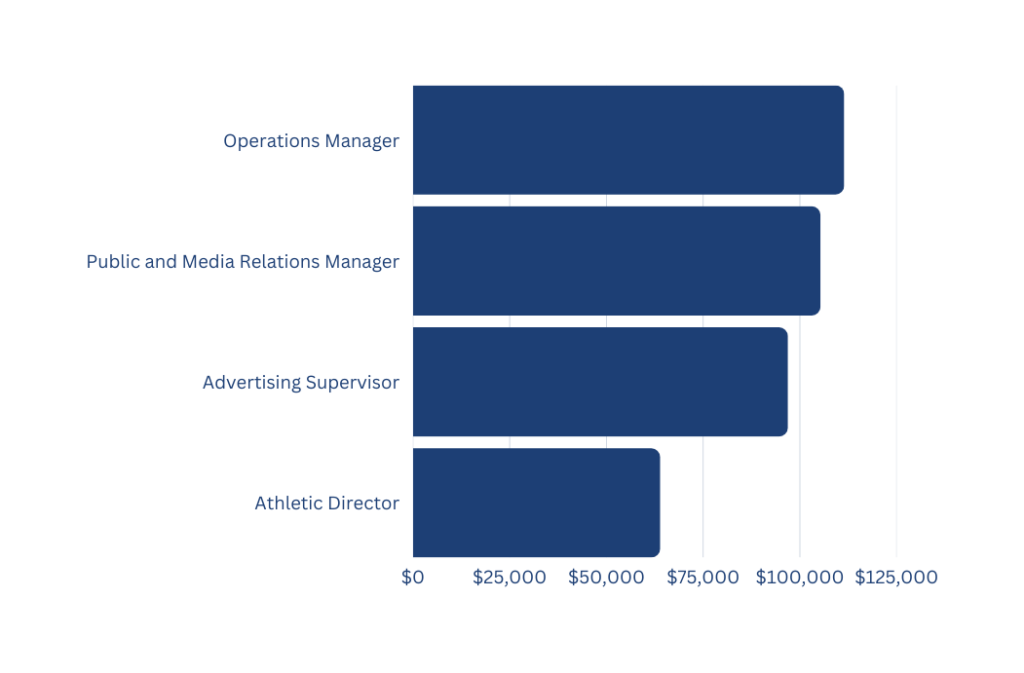 Curriculum and Courses for Online Master's in Sports Administration Degree Programs
The online master's in sports administration program requires students to follow the courses and curriculum determined internally by the educational institution. Many programs for online degrees will offer similar courses as on-campus programs. Since many students enrolled in online programs have busy schedules, it may help to communicate regularly with academic advisors to stay on track with your degree timeline.
Here is an overview of the standard courses found in programs for online degrees in sports administration:
Sports Business
Students will understand the various financial and managerial aspects of the sports business. This course focuses on understanding core financial topics. This includes finance, analytics, budgets, salary caps, tax laws, and financing options for stadiums. In this course, students will learn about the core topics influencing key decision-makers within sports organizations.
Sports Organizational Leadership
This course offers an overview of the organizational structures and frameworks in the sports industry. Students learn to apply a critical analysis of leadership style and theories of organization. Sports professionals deal in various organizational structures, and this course will enable students to navigate this terrain successfully.
Modern Sports Marketing
Modern sports marketing introduces students to the advancements made in digital marketing while offering an overview of traditional sports marketing. Application of theoretical marketing principles and strategies are covered. These concepts may apply to different parts of the sports industry, including broadcast sports media, the sporting goods industry, collegiate sports, and advertisement. Historical media for sports like television and radio are analyzed within the context of the modern social media landscape. Marketing strategies and metrics are covered to determine the success of any marketing campaign.
Management in Sports
The sports industry requires professionals with a working understanding of managing the different aspects of a sports organization. Candidates need a solid grasp of sports law, management procedures, communications, and more. The sports management course covers a variety of relevant subjects that may include topics ranging from social dynamics to supply chains and human resources.
Communications
Sports administration degrees can lead to careers in major sports media outlets or networks like ESPN. Communication skills are foundational to any field within the sports industry. Operations managers, business executives, event planners, media commentators, and business leaders must have advanced communication skills to deliver messages effectively. Verbal and written communication skills are developed in this course to prepare students to interact with stakeholders, investors, and the general public.
Ethics in Sports Administration
Ethics covers a wide range of situations that students might face during their careers in sports administration. While learning how to manage and administer various sports programs and facilities, ethical issues may arise. Ethical decision-making connects to corporate responsibility. This course can help students make healthier decisions as they navigate their careers. Topics could include ethics in financial affairs, public relations, distribution of surplus value, and customer service. At the organizational level, ethical policies reflect how the organization crafts policies related to environmental issues, charitable foundations, and the social relations of production.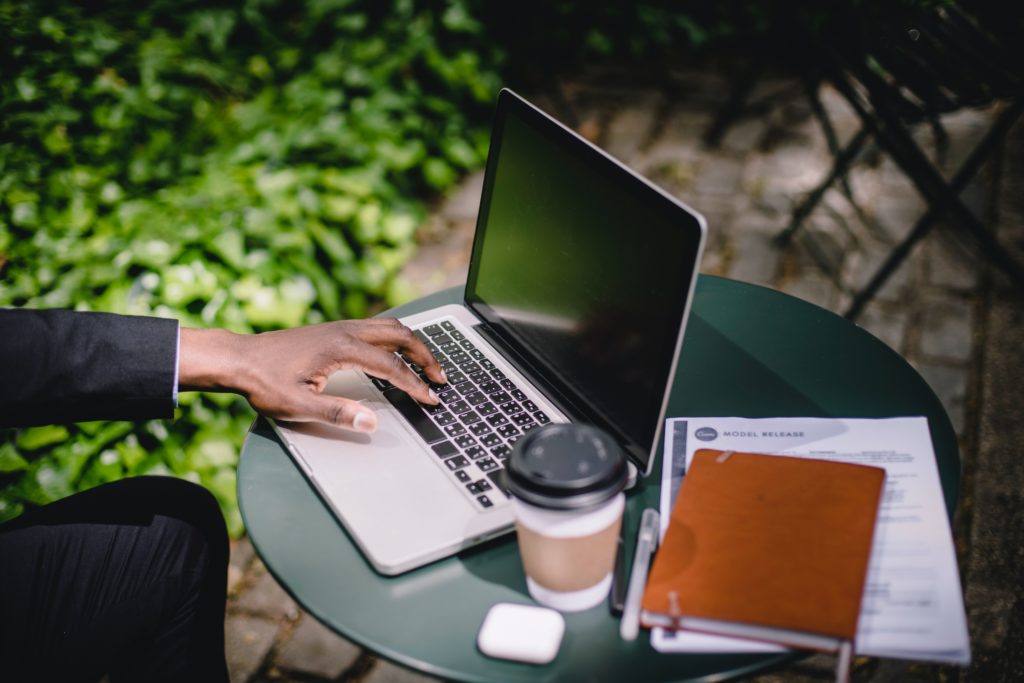 Business Planning and Development
Sports administration supports the overall industry. There are many parallels within traditional business courses. This area of study helps students get familiar with writing a conventional business plan, project financing, marketing research, and other areas of business development. This course is helpful for students planning to launch a startup company or operate within an existing organization. One tool students may learn is SWOT. SWOT is an analytical framework. The word is an acronym for strengths, weaknesses, opportunities, and threats.
Elective Courses
Depending on the institution, students will have the opportunity to enroll in elective courses. Electives allow the student to focus more on areas of interest within the program for online degrees. Often degree specializations are incorporated through elective courses.
Capstone Project
Many degrees require students to complete a capstone project at the end of the academic program. The capstone project highlights the skills acquired through a written or verbal presentation. The project's specific requirements are given through the school program, which might include particular case studies, business topics, or testing.
Admissions Requirements for Online Master's in Sports Administration Degree Programs
The schools set admissions requirements for online master's in sports administration degrees. The admissions office will often assign a counselor to help students meet all the admissions requirements. There might be differences in the admissions process based on variables like the institution and any previous college work completed.
Here are some common requirements that students should always anticipate, and they are listed here:
Undergraduate Degree
Unless enrolling in a completion program, applicants usually need to have completed an undergraduate degree. Some programs have a minimum GPA requirement of 2.5 or 3.0 on a 4.0 scale. You must submit transcripts from all previous college and master's level courses.
Admissions Application
All prospective students must complete an admissions application. Make sure you go through the application carefully. Missing information can cause delays or denial of entry. There are often fee waivers available for students with financial hardships, so always inquire about any promotional periods. Admissions counselors can assist students who have questions or need assistance because of disabilities.
Essay
Many applications require students to write essays. The essay must demonstrate the student's capacity to set and achieve goals, outline a plan for academic success, and overcome obstacles. This will be your first opportunity to help admissions teams know you are a quality candidate for their program.
Standardized Tests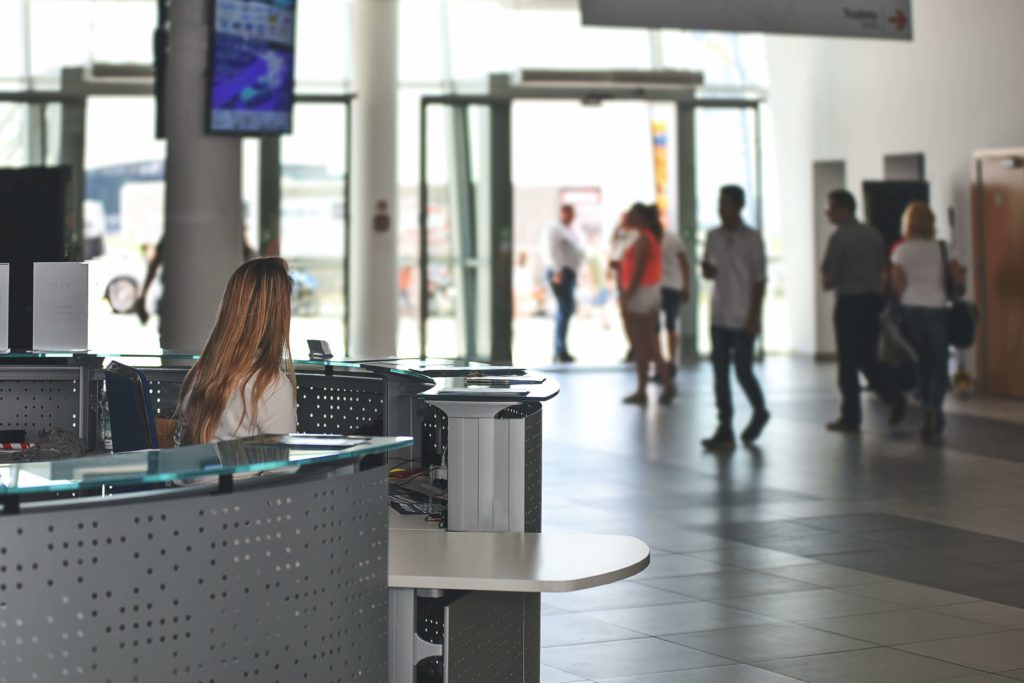 Online degree programs sometimes require students to take standardized tests and submit results. The most common standardized tests for online master's in sports administration degrees are the Graduate Record Examination (GRE) and the Graduate Management Admissions Test (GMAT).
Letters of Recommendation
As you begin researching your ideal degree program, consider who can write your recommendation letters. Most applications require two to three letters written by people who can verify the applicant's ability to handle the academic rigors of graduate education.
Accreditation for Online Master's in Sports Administration Degree Programs
Accreditation is a form of institutional legitimacy. The accreditation demonstrates that the school has met a minimum educational competency and academic excellence threshold. The accreditation may also be necessary to get financial aid. The credential may come from the Department of Education or a regional accreditation board. The online master's in sports administration degree will carry more weight if it comes from an educational institution that is regionally accredited.
Financial Aid & Scholarships for Online Master's in Sports Administration Degree Programs
Though there are affordable online master's in sports management and administration programs, prospective students should always look for financial aid opportunities. The first step is to fill out a Free Application for Federal Student Aid (FASFA) application. This application will help you connect with federal grants and loans that fit your financial needs. Note that you will need to insert a school code when. You can submit a form with several school codes if you have yet to decide on a program. Only complete forms will process correctly.
The financial aid department of your preferred school(s) will receive the information from the government after the FAFSA is processed. You may be eligible for the free Pell grant, which is given based on financial need. You will also find out if you qualify for federal loans, which must be repaid after graduation. Review these loans' terms carefully to ensure you understand all the fine print.
You can look into private loans if you do not qualify for federal loans or grants. Regardless, research scholarship opportunities from third-party organizations and foundations. Every little bit can help when looking to graduate with as little debt as possible.
What Can You Do With an Online Master's in Sports Administration Degree?
As previously stated, the sports industry is ripe for career opportunities. Most people pursuing an online master's in sports administration are already in the industry and seeking to advance their careers. That being said, obtaining this graduate degree can also help second-career professionals transition into this vibrant sector. Here are a few of the many ways people use this degree:
Athletic Director
Marketing Director
College or Professional Sports Coach
Sports Administrator
Facility Manager
Event Coordinator
Sports Advertising
Public Relations Director
Fundraiser
How Much Does an Online Master's in Sports Administration Degree Cost?
The total cost of the online master's in sports administration will vary from one institution to another. The main factor in the fluctuation in price is tuition. As you budget, ensure you include other costs like technology fees, enrollment fees, and the price of textbooks. If you enroll in a program that has residency requires budget travel and lodging expenses.
The financial aid award, scholarships, and grants can significantly reduce the actual cost of completing the degree. For example, a school with higher tuition may offer a financial aid award that includes scholarships and grants. After subtracting this aid from the total cost of the program, it could be lower than the cost of attending a school with a lower tuition and no financial aid offer. Comparing financial aid awards is the best way to evaluate the cost of online degrees.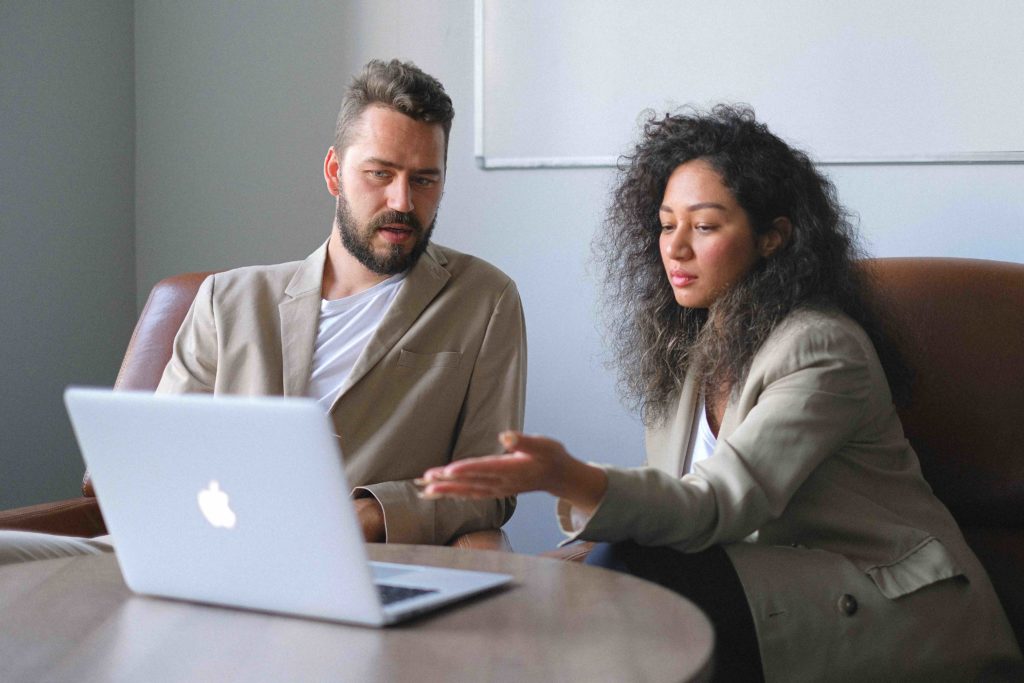 The cost of the online master's in sports administration program can range from $12,000 to $60,000. The institution sets the tuition, and it can change over time. Tuition rates are often higher for students from out-of-state. The best way to determine the cost of furthering your education is to consult with the financial aid department after you've received your offer of financial assistance. During this process, any credits earned from another institution will be evaluated to see if they qualify for acceptance. If the credits transfer, this can also lower the tuition. Finally, tuition rates might be affected by the full-time or part-time status of the student.
How Long Does It Take to Get an Online Master's in Sports Administration Degree?
Most of these programs are 30 to 36 units/hours. Students who go full-time can finish the degree in 12 to 18 months. Those who need to attend part-time usually take two to four years to complete the program. Sometimes students can transfer applicable courses and decrease the number of classes they need to take. This will shorten the time required to complete the degree.
Are There Affordable Online Master's in Sports Administration Degree Programs?
Affordability is one of the top considerations when looking into online degree programs. When looking for an affordable program, remember that all regionally accredited institutions have strict guidelines that help maintain high quality. Thus, you do not have to attend an expensive school with prestigious brand recognition to receive an excellent education. There are first-rate programs listed below that can be completed for under $15,000 in tuition!
Is an Online Master's in Sports Administration Degree Worth It?
Many career opportunities will become available once you earn your online master's in sports administration. The earnings of those with a graduate degree are considerably higher than those with less education. Many top-paying positions require upper-level education. Considering there are programs under $20,000 and many of the careers pay well above $60,000 a year, the degree is absolutely worth it!
Another benefit of attending an online graduate program is the relationships you will build. Networking not only makes the education process more enjoyable, but it can also lead to jobs in the future.
If you are interested in creating a network in a particular region, consider attending an online school in that area. Even though you will often not have to participate in classes on campus, this strategy can strengthen your chances of achieving your career goals.
10 of the Best Schools Offering Online Master's in Sports Administration Degrees
Many excellent programs are available for those seeking an online master's in sports administration. Finding the right fit can take some time. This list of ten regionally accredited online schools can help reduce the time you spend searching for suitable programs. They are listed alphabetically for convenience.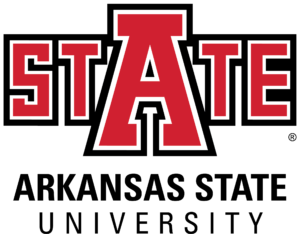 ASU offers a Master of Science in Sport Administration program. This flexible degree is ideal for working adults and professionals seeking additional credentials. Several starting dates during the year make it easy to organize your schedule well in advance. Students can finish the degree in as few as 12 months. The total tuition is just under $12,000, making this one of the most affordable programs in the country!

Georgetown University offers a Master of Professional Studies in Sports Industry Management. The program is 30 credits. Instructors come from a range of professional backgrounds, including the U.S. Olympic Committee, NFL Players Association and other prominent fields. The curriculum prepares students to enter the professional sports industry as managers and administrators.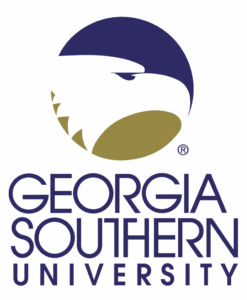 GSU offers an online Master of Science Degree in Sport Management program. It takes 24 months to complete this program, though students can take more time if needed. The program is 36 online credits and covers sports marketing, media relations, finance, and more. This degree emphasizes the business and administrative aspects of the sports industry.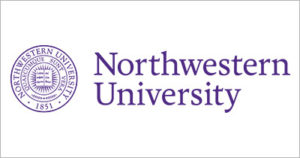 Northwestern University's Master of Arts in Sports Administration can be completed online or on campus. The interactive online classroom is flexible enough to accommodate the busiest schedule. Students can take up to four credits per quarter, but one or two is more common. There accelerated MPPA program allows enrolled students to take three or four courses each quarter.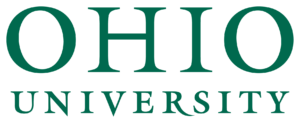 Students enrolled in Ohio University can pursue a Master of Athletic Administration exclusively online. This was the first academic sports program in the country. The program helps students prepare for National Interscholastic Athletic Administrators Association (NIAAA) certification. There is no GRE requirement for applicants who qualify. Students can graduate within two years.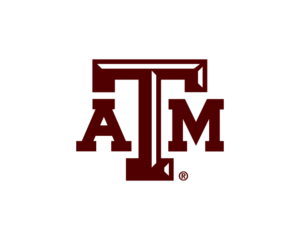 At Texas A&M University, Students can earn an online Master of Science in Sports Management. Experts from practically every sport's management field help shape and teach the classes. It is a 36-credit program with a thesis option and a non-thesis option. The application deadlines for online students are October 1st, February 1st, or April 1st.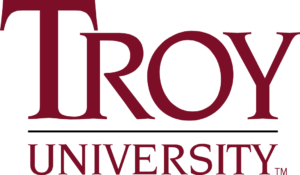 Troy University offers a Master of Science in Sport Management online and on its campus in Troy, Alabama. The Commission on Sport Management Accreditation (COSMA) accredits this program. The flexible online degree is ideal for working people seeking an affordable graduate program with the same support services as traditional students enjoy. The classes are nine weeks instead of the standard 16 weeks.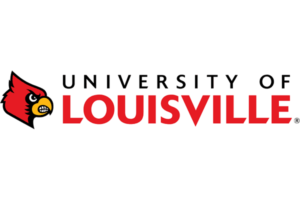 This online Master of Science in Sport Administration degree prepares students to become leaders within the sports industry. The Commission on Sport Management Accreditation (COSMA) accredits the degree. Students can complete the fully online degrees within two years. The flexible course completion schedule allows for up to 12 hours of coursework each semester. Students must complete an internship in an appropriate environment to qualify for graduation.

UT's Department of Kinesiology and Health Education has a Master of Education (M.Ed.) with a Sport Management concentration. The degree prepares students for a career in marketing, finance, event management, and other positions within the sports industry. It takes approximately 24 months for students to complete this degree. The curriculum includes ten three-credit classes.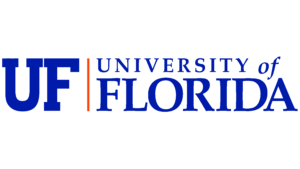 The College of Health and Human Performance houses the University of Florida's Master of Science in Sport Management. This online degree plan has four specializations: Athletic Development, High-Performance Coaching, Sport Law, and Director of Racquet Sports. The degree will require students to complete 36 credit hours to complete the program. There is over $200,000 in scholarship aid available yearly, and the individual awards are between $500 and $2,000 for each award.
Getting your Online Master's in Sports Administration Degree
When it comes to online Master's in Sports Administration degrees, there are many options. Deciding on a program can be difficult without a shortlist of top programs that offer competitive tuition rates, flexible class times, and student support services. Choosing the right program is essential for setting up a successful career in the sports industry.
The institution determines the college admissions procedures. Always check with the admissions officer and financial aid administrator before enrolling to ensure that all your documentation is complete. Ensure that your FAFSA is always submitted on time to secure financial aid, loans, and grants from the federal government. Remember that you can apply to several of your top choices by obtaining a school code from each university and submitting these codes on the FAFSA form.
Conclusion
If you love business and athletics, there is no better time to pursue an online master's in sports administration. These online graduate programs are designed for busy professionals, working adults, and students who want the flexibility of a distance learning option. Many programs have multiple starting dates, enabling you to launch into your studies at a convenient and manageable time. The technology used by these programs for an online master's in sports administration allows the process to be streamlined and simple. Follow the guidance of this guide to get a jump-start on your journey.
Related Resources
2023 Guide to Best Online Master's in Marketing Degrees